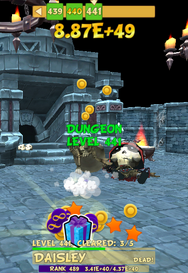 Mystery Gifts, added in v1.5.6, are presents that may appear after killing a monster, up to a maximum of 3 gifts per 30 minutes. The spawn time between gifts can be as short as one minute, so that players who do not spend much time looking at the game can collect their 3 gifts fairly quickly.
Spawn Conditions
Edit
Your highest level reached must be level 40 or greater.
You have opened fewer than 3 Gifts in the last 30 minutes.
At least 1 minute has elapsed since the last Gift spawned.
If all three conditions are met, each monster or boss has a 1 in 30 chance to drop a Gift.
Opening Gifts
Edit
Mystery Gifts are opened by tapping or clicking on the present that appears. Gifts which are not opened will disappear after 15 seconds, but only opened gifts will count toward your quota of 3 gifts per 30 minutes.
Selection Screen
Edit
After opening the gift, you will be given a choice of 3 gifts. 
Mobile users may be prompted to watch an ad before selecting their gift. Those who have purchased Infinity Gems from the Gem Shop will never be asked to watch an ad.
After choosing a gift, the contents and multipliers of each gift will be revealed before you see the exact effect of the gift you chose.
Gift Contents
Edit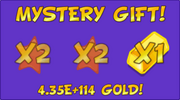 There are six reward types: Gold,
Infinity Tokens
,
Infinity Gems
,
Valor Points
, 
Spell
resets and Ranks. Gold is the most common reward type, while Gems and Spell resets are rarest.
Each gift also contains a multiplier which multiplies the gift's contents. The default multipliers are x1, x2 and x3, with x1 being the most common, though if you purchase the Ms. Claus Soul Link for the cost of 20 Gems, the possible multipliers for all future Gifts will be doubled to x2, x4 and x6, with x2 being the most common.
Gift Type
Default Multiplier
Amount
Gold
x1
4 treasure chests from current level
x2
8 treasure chests
x3
12 treasure chests
Infinity Tokens*
x1
100% of theoretical token drop if there were a boss on your current level
x2
200%
x3
300%
Infinity Gems
x1
1
x2
2
x3
3
Valor Points
x1
3% of a random Hero's current Valor Points
x2
6%
x3
9%
Spell resets
x1
1 random Spell reset
x2
2 resets
x3
3 resets
Ranks
x1
2
x2
4
x3
6
A formula to calculate Infinity Token drops can be found on the Infinity Tokens page. Infinity Tokens awarded are inactive until you Go Infinite.